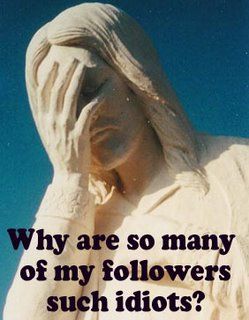 Question:
What do these groups have in common?
Fred Phelps'
Westboro Baptist Church
(homophobic hate group); the
Christian Identity Movement
(anti-Semitic / anti-Black);
KKK
(anti-Semitic / anti-Black);
Neo-Nazis / Aryan Nation / Skinheads
(anti-Semitic / anti-Black);
Phineas Priesthood
(anti- race mixing/ anti-Semitic);
Army of God
(abortion dr. murderers / clinic bombers);
Institute for Historic Review
(anti-Semitic / Holocaust deniers).
Answer:
They are all Jesus worshipping hate groups. Each inculcates "Christian values" within their group. Each holds the Bible to be the inerrant "Word of God". Each justifies their hate, violence, discrimination and terror using the scripture. Each recognizes Jesus as their god and savior.
And these are just a sampling. There are many other Christian groups like these whose ignorance, hatred and intolerance cause death, destruction, fear, and intimidation in this country, in this day and age.
Liberal Christians will claim these people are
"not True Christians
"; that they misuse the scripture for their nefarious purposes; that the hate they profess is not supported by the bible. But they are mistaken, or in denial. They love Jesus, and accept him as their savior. Acts do not determine salvation … belief does. That's the Christian doctrine.
Now, one doesn't have to be Christian to be a hate group. The Muslims have plenty, and they cause thousands of deaths. But these Christian hate groups are our own home grown, flag waving, God fearing Americans. Oh, I'd love to say they "aren't True Americans", but by birth and by our constitution they are.
I did a search for "atheist hate groups". Guess what… there aren't any. Free Thinkers, those Godless heathens, don't band together and picket gay funerals or bomb abortion clinics. They don't create/join groups that burn down African American churches, paint swastikas on synagogues, or threaten to kill minorities and presidential candidates and claim it to be the will of some unseen entity. To do those things one seems to need a belief in God.
Last question:
Why is that?