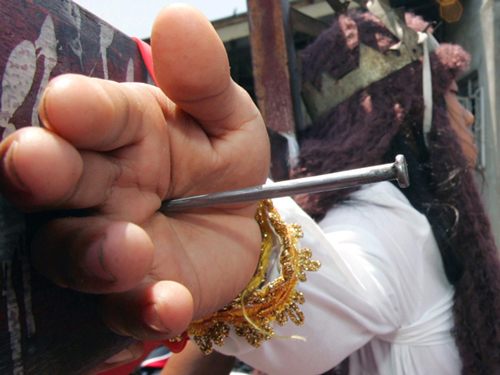 There's nothing like religion to convince people to do crazy things that no sane person on the planet would otherwise do.
Many early religions had human sacrifice. It was practiced in proto-Hebraic religions, and throughout the Middle and far East, and in Europe by the Druids. In the New World the Aztecs and Mayans perfected it making it a high production spectator sport all the way until the Conquistadors wiped them out in the 16th century.
The Egyptian pharaohs and nobles had people, volunteers even, buried alive in their tombs to serve them in the afterlife. Wives of dead Hindu Brahmans threw themselves on their husband's funeral pyres to join them in the great beyond.
Some American Indian tribes did the "sun dance" which included having barbs pierced through the flesh on ones back and hoisted up on a scaffold. Some plains tribes also shot arrows into a selected virgin, wounding her repeatedly until mercifully putting one through her heart.
Today Muslims in western India throw babies off of buildings and catch them (usually) in open sheets. Somehow this is supposed to insure good health. In many Muslim countries they practice Ashura blood letting, where the child's head is cut with a knife and blood allowed to drip down all over him soaking his clothes as he screams. Naturally, in neither case is the child consulted beforehand.
Of course the Jews are famous for circumcision of male children on the eighth day after birth. The good news is it's done with a scalpel now, having done away with the earlier flint knife.
Christians have some lovely rituals. In the Philippines on Easter men drag a full size crucifix across cobblestones until bloodied; and/or they are "scourged," given the old forty-lashes just like Jesus. Some even volunteer to have nails driven through their palms into a cross and are briefly hung out to dry.
In fact, Christians have a long history of "mortification of the flesh." Wearing a hair shirt; self-flagellation with chains or leather thongs with metal on the end; walking on their knees; and the wearing of a cilice, a leather or chain band with spikes that cut into the thigh of the voluntary wearer (the albino monk in the DaVinci Code wore one).
In the ancient religions these blood lettings were intended to placate the gods, give victory in war, or bring fertility to the tribe's crops and the people. They were ignorant of science and their beliefs, their lives, were entirely controlled by shaman and the ruling authority, who often were one in the same.
But modern day practice of this kind of abuse in order to ensure health; mark ones special relationship to a god; or put to death the desires of the flesh is simply barbaric, bordering on insane. For what purpose is this pain and agony inflicted or endured? To show some supernatural sky buddy how much they love him? To be at one with a mythical man-god who may or may not have ever existed and who certainly isn't going to applaud them? To be seen as more devout and devoted to this magical being than their neighbor?
Whatever the reason, it isn't driven by reasoning. It's a product of a mind virus called religion that prompts people to behave like pain inflicting, blood loving cultists. Only the deluded could possibly justify it, much less endure it.
Of course, if crucifying Christian fundies like Pat Robertson and his ilk would bring world peace, end starvation, insure tolerance and equality for all, drop the price of oil and get the stock market back up over 14k points, I'd fully endorse them all doing it on a daily basis. Heck, I'd even lend them my nail gun.