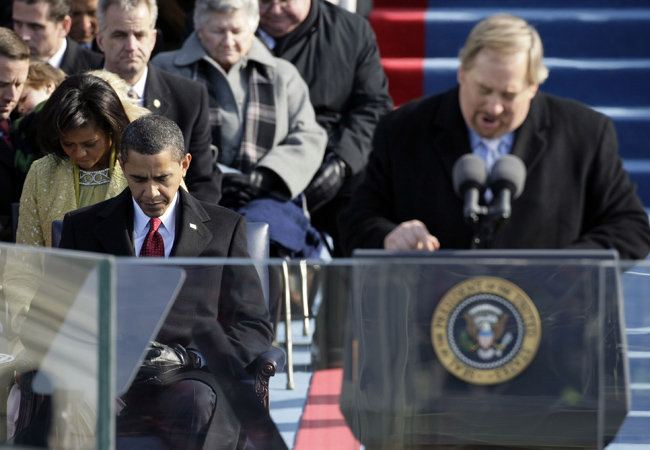 Whether at a graduation ceremony or some solemn public gathering it's not uncommon for a clergyman to be invited to deliver an invocation to launch the event. Although they may exist, I have yet to hear one that is anything more than the shaman calling upon a magical spirit to bless the assembly, and other wise invoke his/its supernatural guidance.

Invocations sometimes precede governmental sessions. While they are suppose to be generic, the occasional fanatical pulpiteer will thrust his preferred deity's name into the script in violation of the 1st amendment prohibition on the endorsement of a specific religion by the government. The fact that some of the attendees don't recognize said deity and find it exclusionary, or even offensive, is lost on the Bible thumper. More likely, the sky pilot couldn't care less if it irks some, perceiving it as his divinely directed duty to shove his god down peoples' throats welcome or not.
Of course, if the invocation is delivered by a pagan , AKA non-Abrahamic religionist (which happens about as frequently as Halley's Comet, albeit, it's far too often if you ask the followers of the predominant faith), and the deity mentioned happens to be one with four arms and an elephant's trunk, you can be assured the howls of disgust and the cry of "blasphemy!" would be deafening. This is never perceived as hypocrisy by the offended shepherds and sheep of the one "true" faith.

This sectarian tradition isn't disappearing any time soon in the US. After all, it would be political suicide for a public official to come out against religious invocations. But this doesn't mean religionists have to own the right to deliver invocations at public events by default. Atheist activists have the opportunity, indeed the duty, to get onboard the invocation train.

What would an atheist's invocation sound like? How about an appeal to reason; a wish for respect for attendees' opposing positions; an imploration for community, civility, compromise, goodwill, empathy and logical discourse? All of those things are grounded in realism and foundational to productive discourse. It's what the thinking in an advanced society do.

A word of advice: unless your invocation precedes an atheist meeting you'll want to suppress the urge to blurt out - "Thanks for coming. I have no supernatural horse hockey to feed you as though you are a herd of mindless medieval peasants. I have too much respect for your intellect. So, let's get on with reality and the event." After all, you'll want to be invited back hopefully before Halley 's Comet's next appearance.