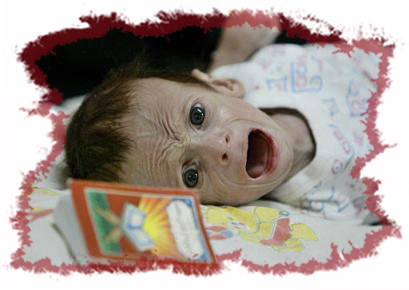 In 2009 Herbert and Catherine Schaible watched their helpless two year old son die of pneumonia. They didn't watch as emergency room doctors used their medical training and modern pharmaceuticals to try and save the boy, they couldn't because they never sought professional help. Instead, they prayed over the boy, asking God to heal him as he wasted away and succumbed to this treatable disease.
The Schaible's are members of the First Century Gospel Church of Philadelphia, PA. They perceive using medical aid as a lack of confidence in God. They believe in faith healing exclusively. If this was the first century I'd understand their ignorance and dependence on the supernatural, they'd have had few other choices. I cannot, I will not accept this as anything less than voluntary manslaughter. The courts agreed.
However, today the sentencing judge gave them a virtual pass. Instead of holding them accountable, emphatically establishing that society will not tolerate the death of a child who is at the mercy of his parents, the parents were given probation and made to promise they will seek medical help for their remaining seven children should they fall ill. Period.
What is the message this sentence sends? That if you have belief in a the god of Abraham as a healing agent then allowing a child to drown in his chest fluids who could have been saved isn't all that bad. Oh, it wasn't a good thing it's just not as bad as watching as your kid drown in a bathtub. So, go about your business; continue to think and act like a first century cultist; raise your kids in this archaic superstitious faith so they too may some day kill their kids with prayer. Go, and sin no more.
I wonder had it been a voodoo practicing family who depended on incantations, eye of newt, chants and magic smoke to heal and their child succumbed, would the judge have been so forgiving? I doubt it. One can only guess what would happen to an atheist who would watch a kid die while reciting from a Carl Sagan book: "That's right your honor, I put my confidence in Sagan's ability to heal my child ... problem?"
This is 21st century America where the death of a child at the hands of their parents is treated like a first time shop lifting conviction just so long as you're Christian and sufficiently deluded.
A pox on them, their church and that judge.