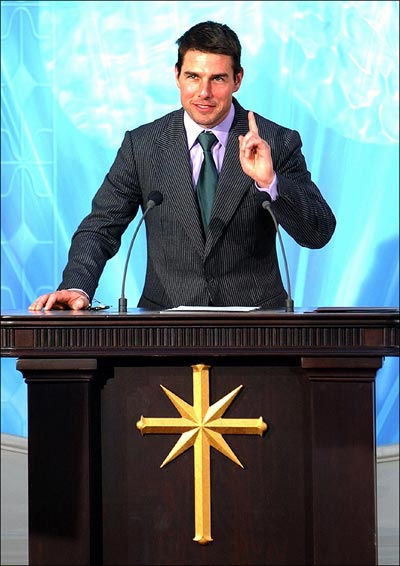 "I was in a cult for 34 years. Everyone else could see it. I don't know why I couldn't... "

The above is a quote from Paul Haggis; Oscar winning movie director and thirty-four year devotee of the Church of Scientology. His story as to why he left the church as well as some choice bad mouthing of the church hierarchy appeared in New Yorker magazine this week. He expects fall out since the good folks who run Scientology don't tolerate apostates well, and have long memories.
I imagine Haggis' quote is uttered at sometime or other by every cult escapee. Why couldn't he / they see what the rest of us could? What draws otherwise intelligent, productive and mentally stable people to devote their lives; donate their fortunes; accept isolation from not cultist family members; and accept the most transparently bizarre claims of known charlatans, madman and spiritual fanatics? There are a number of theories espoused by psychiatric medical professionals that purport to explain this phenomenon. I won't rehash them here.
But what's important is this: that same statement of incredulity made by Haggis could be and likely has been uttered by every escapee from any cult, religion, or spiritual community. After all, what makes a cult different than a religion? Typically the answer is the size of the group's bank account and cash flow. And what makes an eastern ascetic guru who is credited by his adherents with having vast knowledge and insights and thus can provide them with a path to unique spiritual knowledge different from praying to a disembodied man-god to give one health, wealth and guidance; or asking some priest for forgiveness through penance? Not much.
The Romans perceived early Christians as cultists. No doubt main stream Christian sects would take umbrage with that label now. That can be attributed to their lack of understanding of the word which in fact defines the three major religions precisely.
On the other hand those same Christians are quick to dismiss Jehovah's Witnesses, Mormon, Santeria, Christian Science and other offshoots of Christianity as cults, using the word as an epithet - just as they all (indeed we all) dismiss Scientology as a cult. Never do they see their own "... particular system of religious worship, especially with reference to its rites and ceremonies." as a cult.
http://dictionary.reference.com/browse/cult
I'll admit to a similar prejudice, albeit for different reasons. I tend to reserve the term cult to describe all new age "higher power / enlightenment seeking" movements and all of the 19th century Christian hybrid religions. I have no basis for that, since Catholicism and the protestant sects are as well defined as cults as are any of them according to definition. But I justify the difference because by the 19th century, and certainly by the 20th, the progression of human experience should have by now rendered the invention of new nonsensical, non-material, irrational movements obsolete.
One could almost [note I said
almost
] forgive mainstream religionists for accepting Bronze Age,1st century, and 7th century supernaturalism. Developed by primitive thinking peoples and ingrained into succeeding generations by indoctrination it's a virus that spreads and sustains itself. But I can't even feign anything approaching understanding for people who embrace modernistic supernatural fictions, fallacies, frauds and fantasy. They have abandoned ancient pre-scientific ignorance and blind faith, replacing it with a modern version of stupidity.
Dig into the dross at the bottom of the barrel of religion, and just below the scum layer of fundamentalist religionists you'll find cultists.