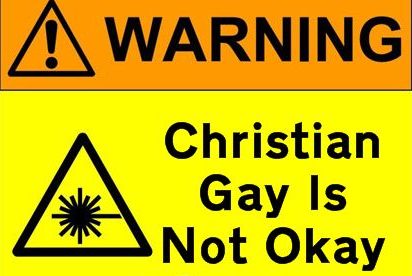 If there is one thing that the vast majority of heterosexual Christians agree on it's that homosexuality is a sin. Of highly religious white Evangelicals 88% say homosexuality is a sin. 75% of Black Protestants say it's a sin. Among Catholics the number is 64%. In all Christian denominations the higher the individual's commitment to their religion (devoutness) the higher their intolerance for homosexuality. To say that Christianity overwhelmingly condemns homosexuality would be a gross understatement.
http://pewforum.org/PublicationPage.aspx?id=645#4
Thus, when my book
The Atheist Camel Chronicles
first came out I felt comfortable giving a signed copy to two gentlemen I befriended who sold and installed my underground dog fence. They are business partners and life partners. I had assumed that they'd share my perception of the ills of Christianity, since Christianity has had nothing good to say about them as gays.
Perhaps it's that suppressed liberal bent in me, but I sort of expected a pat on the back from them for the chapters in the book that express my liberal perspective on homosexuality, equal rights and gay marriage. That never happened. Instead some many months later I discovered they were a little taken aback at my book's anti-theist themes ... they both being Christians.
[Note:
Two lessons learned. 1- So much for stereotyping gays as freethinkers. It's an erroneous assumption. 2- Expecting accolades for being tolerant and modernist in thought is rather, well ... pompous, condescending, self aggrandizing or something not very praise worthy].
This incident, and more recently my awareness of the larger gay Christian community, led me to question how gays can embrace a belief system that preaches against their lifestyle and sexual preference. How can they possibly reconcile their homosexuality with a scripture, a God, a clergy and congregants who see them as "not true Christians" at best and hell bound unrepentant sinners worthy of God's condemnation and death by stoning at worst? The answers were at once surprising and yet absurdly predictable.
From what I can discern it boils down to three thought processes. The first is simply ignoring the issue of their sexuality entirely, denial. In this gay Christian website the faithful reiterate their love of Jesus, accept him as their savior, recognize the Bible as the word of God and anticipate salvation for their devotion. They just opt to ignore the Old Testament prescriptions for stoning and the traditional ostracizing and almost universal Christian condemnation of their sexual preference and life style.
http://www.gaychristian.net/statementoffaith.php
Another tact is exemplified by a gay Christian organization that goes beyond cherry picking of scriptural verse, the tried and true Christian approach to using the Bible to support ones agenda. These people actually attempt to apply new meanings to Jesus' words to transform his reference to "eunuch" in Matthew 19 to also mean "homosexual." Thus, not only did Jesus not specifically condemn homosexuality, they imply he actually endorsed it. This may well be the most blatant example of dishonesty or delusion I've ever witnessed.
http://www.gaychristian101.com/Homosexual-Eunuchs.html
They also embrace the entirely erroneous concept that that Jesus said he had come to dissolve the laws of the Old Testament.
http://www.tobyjohnson.com/cause.html
Finally, there are the gay Christians who don't attend church regularly, are not Bible literate and just ignore the acrimony of hetero Christians, the Bible and the Church leadership. Raised in Christian families, indoctrinated since childhood, they have taken on the identity of Christian from their parents. Never mind what the Bible and their fellow Christians say, they dismiss the homophobes as just acting independently; God makes no differentiation between gays and straights. In fact, it was God who made them gay thus he must approve. In essence they are arbitrarily redefining Christian doctrine. It's feel good self deception.
It all boils down to the God Virus. Gays have no special immunity or antibodies for it. It doesn't differentiate between gays and straights. Once infected with the God Virus it can disguise and distort reality. The ugly reality is that homophobia in the West is directly attributable to their God and the Judeo-Christian doctrine. The very reason for gay second class citizenship status is rooted in the Abrahamic God's disgust for their sexual preference. But don't bother telling that to them. Reason has always been the enemy of faith, and the faithful gay are no exception.