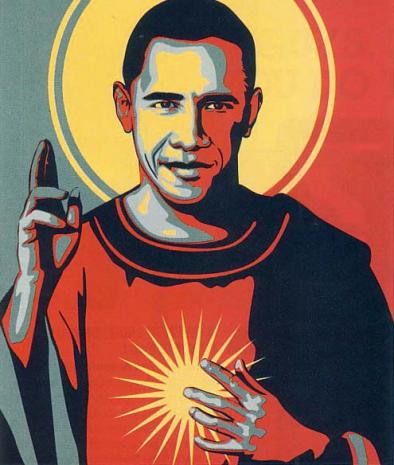 The National Prayer Breakfast is an event held annually in Washington and sponsored by Christian evangelical fanatics in government, most notably "The Family" aka The K Street gang. That club is comprised of Republican politicians who see their political role as spreading the word of Jesus.

President Obama attended his first Prayer Breakfast in 2009. There he gave a speech that was ecumenical in nature, non-religious and clearly intended to be healing and inspiring without being overtly religious. Here is a very brief extract from his 2009 address to the attendees. :
"... far too often, we have seen faith wielded as a tool to divide us from one another – as an excuse for prejudice and intolerance. Wars have been waged. Innocents have been slaughtered. For centuries, entire religions have been persecuted, all in the name of perceived righteousness."

"There is no doubt that the very nature of faith means that some of our beliefs will never be the same. We read from different texts. We follow different edicts. We subscribe to different accounts of how we came to be here and where we're going next – and some subscribe to no faith at all."




http://www.nytimes.com/2009/02/05/us/politics/05text-prayer.html

Two years later President Obama had a different message. This year, in early February, he discarded his designer suit and donned his hair shirt. He took off his hand made cordovan oxfords opting instead for Jesus sandals. And he carried in his hand not the torch of freedom, but a shepherd's crook and a Bible. Here are some extracts from his 2011 address to the attendees;

"I came to know Jesus Christ for myself and embrace him as my Lord and savior."

"My Christian faith, then, has been a sustaining force for me over these last few years, all the more so when Michelle and I hear our faith questioned from time to time,"


"When I wake in the morning, I wait on the Lord, and I ask him to give me the strength to do right by our country and its people, and when I go to bed at night, I wait on the Lord, and I ask him to forgive me my sins and look after my family and the American people and make me an instrument of his will."




http://www.washingtonpost.com/wp-dyn/content/article/2011/02/03/AR2011020302769.html

So what's happened here? Has the President become born again Xtian over the past two years? Has he come to Jesus, seen the Light? Hell no, he's too intelligent for that nonsense. The bottom line is he has been stung by criticism for his lack of public religiosity and by the continued undertone of rumors of his Islamic belief which is still accepted as fact by millions of the faithful.

Most Christians see atheists as unworthy to hold office. The Pew Forum survey of 2009 showed Christians would sooner vote for a homosexual or Muslim for president than for an atheist. And we all know how a very large number of Christians feel about those two groups. It wasn't all that long ago that George Bush Senior referred to atheists as "... not patriots and possibly not even Americans.­" That perspectiv­e is shared by many Christians.


Obama's new found religious fervor is a product of the criticism and doubts cast by religionists; it's a way for him to blunt the Muslim accusation nonsense, but it's also a way for him to establish he isn't a non-believ­er, either of which would be the kiss of death in 2012. Am I disappoint­ed he doesn't just out himself; just admit he's agnostic; declare that religion is fine for some but isn't important to him, of which I am largely convinced is the fact based on subtleties of things said and promises made (and broken) before his election ? Yes, I am disappointed. Yes, it's hypocrisy.

But the religious virus is so deep in this country that for him to continue to stone wall the demand for declaring his Christianity would be political suicide. He has to play the game lest that famous "Christian love and tolerance" guarantee him to be a one term President.

I'm a realist. I'd rather see him dance the dance, play the game and sell his dignity and credibility to satisfy the Christian majority than to be counted out of the race before it begins and watch a real K Street Gang member take the presidency. If that makes me a hypocrite as well, I can live with it for the next six years.