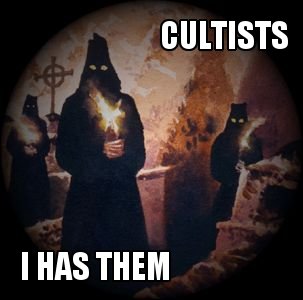 cult  noun

1. a particular system of religious worship, especially with reference to its rites and ceremonies.
2. an instance of great veneration of a person, ideal, or thing, especially as manifested by a body of admirers
3.the
object
of such devotion.
4. a group or sect bound together by veneration of the same thing, person, ideal, etc.
5.Sociology . a group having a sacred ideology and a
set
of rites centering around their sacred symbols.

Recently, in an attempt to discredit Mitt Romney, a Texas Evangelical preacher and supporter of Rick Perry referred to Mormonism as a cult. This drawling, inbred, worshipper of a dead Jewish figure who was either a charlatan sorcerer, or a Cynic preacher, or a befuddled maniac, or a social revolutionary, but clearly a composite of various pre-Jesus man-god myths is casting aspersions by using "cult" as an epithet to diminish Romney's suitability for office.
Of course, he is correct. Mormonism is a cult. It satisfies every definition of cult. So too do the Baptists, the Methodists, the Catholics, Episcopalism, JWs, the Snake Handlers, Shakers, Quakers, and every other denomination or sect of Christianity. The early Romans writers referred to Christianity as a cult / cultus. Of course to religionists their form of cult isn't a cult at all...as though the term "religion" has more credibility and less dangerous connotations.
Oh, no doubt the befuddled bible banging twerp meant to use the term in the vernacular, where cult has taken on a sinister meaning reserved for 20th century upstart societies of outcasts misfits, and freaks. You know them as the Heavens Gate suicidal Nike wearing whackos; the Branch Dividian, Waco Texas human torches; the Kool Aid slurping followers of Jim Jones; Fundamentalist Mormons polygamist child rapists; and the ever lovable and completely deluded followers of a notorious charlatan sci-fi writer who invented Scientology.
It used to be said that the difference between a religion and a cult is its financial solvency. If that's true, Mormonism, and Scientology are full fledged religions, having amassed a treasury that would put many third world countries to shame. But the fact is a religion by any other name is still a cult, and vice versa.
The only people who do not have rites and rituals; who eschew veneration of a person or an ideal; who have no object of devotion around which they kowtow; who are bound by no ideal or ideology; and who reject sacred symbols - are atheists. If anyone has the right to refer to religious groups as cults, in the vernacular sense or by the dictionary definition, it's us.
To the undereducated, right wing, stone throwing, holier than thou, Gawd fearing mainstream worshippers of a myth imbued dead man this of course is impossible to comprehend. They will argue against the dictionary definition. They will insist they are exempt from the definition of cult. But the fact is this nation has had a cultist as its head of state ever since Thomas Jefferson left office. We'll have another one in 2012.
Damn...I miss Jefferson.