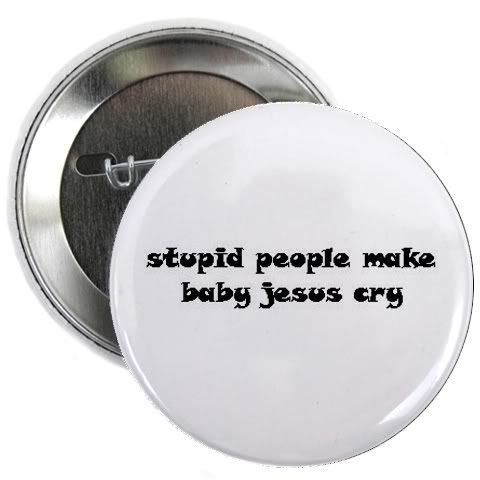 That's right, you heard me. I found Him! My quest is finally over. No, not Jesus or some incarnation of a similarly mythical sky-monkey, better. I found
"The Stupidest Fundie on the Internet".

As atheists you are no doubt skeptical. You might say:
"Oh come now, Hump, you exaggerate. With all the imbecilic Christian whackos running loose you can't possibly be sure he's the stupidest."
I understand and respect your reservations. Indeed, you are entitled to proof. Here it comes. You be the judge.
"Glenn" wandered into an atheist blog I peruse frequently. Initially I pegged him as an atheist joker because of the outlandish statements he was making. But it turns out he has his own blog that confirms his creationist, Satan / Jimmy Hendrix connection, bible as literal, man riding dinosaurs, end of the world coming, science rejecting, fire and brimstone mania. The following is just a sample taken verbatim from his comments in that atheist blog over just three short posts:
"Science has now proven the theories of the bible to be correct."

"This team, went out in the 80's and dedicated their whole lives to finding any evidence to prove the bible correct. They found 3, Noahs ark, Soddom [sic] and Gommorah [sic], and the Ark of the covenant [sic].

"If you look at the most recent findings from Dr Kent Hovind and his crew .... Dinosaurs were buried with man."

"If the big bang did happen, then why are not all the plannets [sic], suns, stars and moons, spinning the same directions? which they are not!???"

"DO you think humanity is now worthy enough to be spoken to by God? no way, if he was to speak you would perish as we are not devine [sic] enough to withstand it."

"Archaeologists have spend the last 40 years trying to prove Evolution correct, which they have failed, but in turn have proven that the bible is more accurate than any other theory."

Naturally when asked for evidence of, support for, any of his statements of "fact", he never responds. Where can we find the Ark of the Covenant now that it has been discovered? No answer. What physical laws require all planets to rotate the same direction? Nothing. Who are these accredited archeologists? Nada.
I imagine that when he says these crazy things in fundie groups he is hailed as a veritable prophet and lauded for his "scientific knowledge" and devotion to the Lard. He wasn't smart enough to discern the implications of making these inane statements to a group of fundie Christians, and making them to thinking people. He abruptly disappeared.
If there was a Golden Globe award for "Most Moronic Christian in a Supporting Role", I'd put this clown up against anyone you can come up with. He is the best argument I can find for retroactive abortion and how religion encourages ignorance and cultivates stupidity. Here's his blog; it's a hoot. Leave your intellect at the door:
http://almosttheend.blogspot.com/