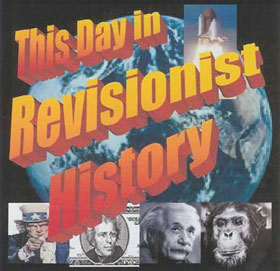 You've probably heard that the Texas School Board voted to re-write, distort, and otherwise pervert their social studies text book state wide.
These bible banging right wing born again Christians have decided that Thomas Jefferson was being given too much credit for his leadership and down plays the concept of the Separation of Church and State guaranteed under the 1st amendment and confirmed by the Supreme Court. The book will proclaim that the US was a Christian nation founded on Christian values ( I assume that means we as a nation endorse killing fig trees, conducting exorcisms, infecting herds of pigs with demons, and encouraging horse thievery -- all New Testament values).
Their changes also give Ronald Regan and Newt Gingrich the kind of coverage previously reserved only for the greatness of Lincoln and our Founding Fathers; claim that the McCarthy Communist witch hunt of the 50's was justified; devotes pages of accolades to Confederate leaders; and decries the United Nations as imperiling America's sovereignty.
What Texas high school students will now get is an education not from an impartial historical perspective, but from the fanatical perspective of far right conservative fundamentalists. Lucky them. As if Texas wasn't already a hotbed of religious delusion, and blind devotion to stupidity … now their children will be receiving a religio-political rewrite of our nation's history.
Texas has often set the standard for school books. Since they have such a large population of school kids, publishers typically seek to use the same books all over the country. Already some states have moved to block the Texas version of US history so as not to infect their states with Texan insanity, ostensibly putting the publisher on notice that that version will not be accepted in their schools.
What's next? My guess is some bible belt states will pick up this version of revisionist history. Then, Texas science books will be perverted to include rebuttals to evolutionary theory, Creationism, Intel-Design, Young Earth-ism; Noah's flood being the cause of the Grand Canyon; resurrection of the old "missing link" bugaboo… wtf knows how far these mindless religious freaks will go?
I've said it before, I'll say it again: they should change that insipid motto "Don't mess with Texas" to "Don't mess with Texas -- we're already as fucked up as we can get."