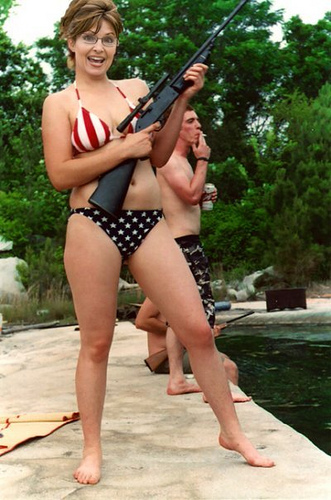 By the time you read this you'll know that Sarah Palin, Gov. of Alaska, McCain's running mate by the Religious Right's decree; empty headed fundie; darling of the unthinking religious whack jobs and Rush Limbaugh fanatics; and the woman who, last fall, one of my GOP deluded relatives proclaimed was "the best of all the Presidential candidates" ... has announced her resignation.
Palin says she "prayed" before making her sudden and totally out of the blue decision. Evidently God responded by telling her what we already knew -- she is an utter loser and unworthy to do anything more than go hunting, and play soccer mom and grandma to her "abstinence only" unwed daughter's baby.
I'm waiting for her real reason to become public. Oh… it will be spun everyway from Sunday, but my considered guess is some really embarrassing story, or financial motive, is lurking just under the surface of her decision. Running for President in 2012? LOL! I doubt there are enough Republican's who are so brain damaged to want to pit this numb scull against Obama.
Bye, Bye, Sarah…don't shoot yourself in the ass on the way out… it could cause cranial hemorrhaging.

Then there is that OTHER "top GOP presidential hopeful" for 2012 -- Gov. Mark Sanford of South Carolina. This fine upstanding Christian family man with four kids; this champion of Republican
"Family Values,"
got caught boffing some Argentinean babe while he was allegedly
"hiking the Appalachian Trail."
The ole "Appalachian trail" excuse is destined to be a euphemism that will forever be right up there with
"getting a Lewinski."
Now, to be fair, it's really not Gov. Sanford's fault. As any good Christians of far right Republican bent will tell you, it's those damn liberal abortion laws, birth control instead of abstinence efforts, and homosexual marriages that have weakened the nuclear family, and eroded "family values," whatever the hell they are. Yep. Everything woulda been fine if those damn homos hadn't been meddling in the sanctity of Gov. Sanford's marriage.
Bye, Bye, Mark ... don't trip over your "Hiking Stick" (aka "Lewinski Pop") on the way out.

Well, that narrows the field a bit. That leaves Hindu turned Born Again Christian Governor Bobby Jindal of Louisiana as the GOP's best hope in 2012. You remember Bobby, the "young up and comer and New Face of the Republican Party."
But you may remember Bobby best for the exorcism he conducted on his fiancée. It seems she was possessed by a demon or two, and ole Bobby, with his new found monotheistic fervor, was compelled to cast out that troublesome demon. Now there's a guy you wanna see in the Oval office with his hand on the nuclear football.
Sorry, Bobby… I don't think so.
To be sure there are a bevy of Creationist / Intel Design, 6,000 year old Earth suborning Christian imbeciles who could be tapped to run against Obama in 2012. I'm rooting for it to be Mike Huckabee. My logic is simple: after losing to a sitting President by a land slide in 2012, and already having been tossed aside in 2008, it will mark Mike Huckabee's last hurrah forever.
Hey Mike, dust off your resume. I hear the First Church of the Baaing Sheep is looking for a preacher.
Bye, Bye bible thumping, hypocritical, supernaturally infected, reality denying Christian GOP presidential hopefuls. Don't let a talking snake sneak up yer ass on the way out.