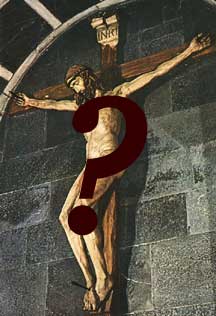 In Galatians 1:19 Paul writes of having met Jesus' brother James. Some Christians claim this is evidence that Jesus was a real person, although there are no legitimate contemporary eyewitness accounts or documents corroborating a real Jesus outside of the bible.

That Paul writes he hob knobbed with James is some how taken as a confirmation that Jesus was real??? Talk about a leap of faith. Paul also said he met with Jesus after his death. Paul said the laws of the OT were now null and void, although Jesus said they never would be until the Earth disappeared and "all was accomplished". Paul said a lot of shit. So, how does anything Paul say have any bearing on a genuine Jesus?
But, lets presuppose some character named Jesus did exist (it was among the most popular names in that region at the time, tantamount to "Bob" these days). What is the implication and significance? That some executed Jew among thousands of executed Jews; some itinerant Cynic preacher; some hysterical mad man ala the Jesus described in Josephus' "Jewish Wars"; or some wanna be leader of a reformed / new Jewish sect, actually lived?

And that upon this individual's demise Paul and his fellow cultists borrowed from innumerable known pagan myths and conveniently revised Jewish prophesy to endow him with a divine lineage, and supernatural abilities "far beyond those of mortal men"? Oookay.
I don't see what possible difference it makes if Jesus was a fictional being, or some poor deluded schmuck who, unbeknownst to him, became the center of a cult's devotion after his death. After all, Haili Selassie, Emperor of Ethiopia existed, is deemed God, and is worshipped to this day as the true savior by his devoted Rastafarian followers. Of course, he was black, didn't have the right PR guys like Jesus did, and he was a 20th century figure. [On the other hand, they do ganja as a sacrament which is eminently more attractive than dried out wafers and watered down wine or grape Kool Aid.]
So, my questions are simple: What
"evidence"

?
And what difference does it make?